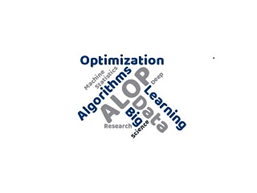 Autumn School 2017 on Optimization in Machine Learning and Data Science featured excellent speakers
The Research Training Group on Algorithmic Optimization recently concluded its
Autumn  School 2017.
The invited speakers Steve Wright, Tammy Kolda and Julian Hall combined excellent lectures with computer applications.
The RTG ALOP welcomed over 60 participants from 16 different countries, creating a multi-cultural enviroment which supported an active exchange of ideas. For more information see the Autumn School website
 Several participants presented their work during a poster presentation.
The best Poster Award was presented to Clément Royer of the University of Wisconsin-Madison.
The participants enjoyed a guided tour of the city featuring many of Trier's historic sites.
The conference dinner included a sampling of regional wines in a cellar setting.